Products
Fully automated facility for Clean-Up and enrichment of Genomic DNA out of differing sample material
World-wide unique: parallel processing of several different DNA purification kits* of different vendors with partially differing protocols, efficiently scheduled.
Ideal to test new Kits.
World-wide unique: work-up of samples in a volume range of 20 – 6000µl within the same run, hence:
simultaneously doing 'normal' samples as well as doing an enrichment out of large volumes (limited by sample volume and work-up time)
DNA-clean-up and PCR-set-up (in 96 well PCR plates as well as in LightCycler® capillaries) in one comprehensive uninterrupted work-flow:
samples and all reagents are placed into the system according to the software's advices.
Finally the ready to use PCR-plate or capillary rack is being retrieved
Two was of introducing samples to the system:
a) out of screw-cap tubes being opened automatically and, during sampling, are being purged with CO2 to prevent oxygen interacting with the anaerobic samples;
b) open tubes for micro-organisms which are not sensitive to O2
LIMS-connection – sample work up by bar-code
All parameters (i.e. sample volume, kit type, reagent volumes, master-mix volume, etc.) are provided globally but can be adapted for each individual sample
*(based on magnetic particles)
Enhanced Safety Device
We help you to work very safe!
We take good care of your cells!
Download here our flyer
cell cultivation systems
.
We have the incubator feeder for your
cell based assay reader or imaging system!
It's speed, precision and reliability that counts.
It's CellOcount that counts!
CellOfeed
We have the incubator feeder
for your cell based assay
reader or imaging system!
Introduction:
A major bottleneck in modern cell based assays is the analysis step in an MTP reader (fluorescence, luminescence, etc.) or high content reader (confocal) microscope.
As the analysis is usually very time-consuming, it is crucial to have the environment climate-controlled (temperature, CO2-concentration, humidity).
Therefore, current models of MTP-readers and automated microscopes have a climate control chamber to keep your cells alive in the MTP during the analysis. But if you want to read more than one MTP at a time you have to either load it manually into the reader or, you have to build an automated system around the reader consisting out of automatic incubator and robotic X/Y/Z-drive with gripper to load and unload the MTPs.
The costs for such an automat can easily exceed the costs of the reader itself! Available inexpensive MTP feeders are not climate controlled and cannot be used. Apart from that: the smallest automated incubators are made for about 40 MTPs but in this scenario usually loaded with 10 MTPs only. Together with the robot an enormous waste of valuable lab space!

Solution:
CellOfeed is an extremely small footprint climate controlled incubator, adapted specifically to your reader. It fits together with your (MTP-)reader onto the workbench or even inside a standard laminar flow.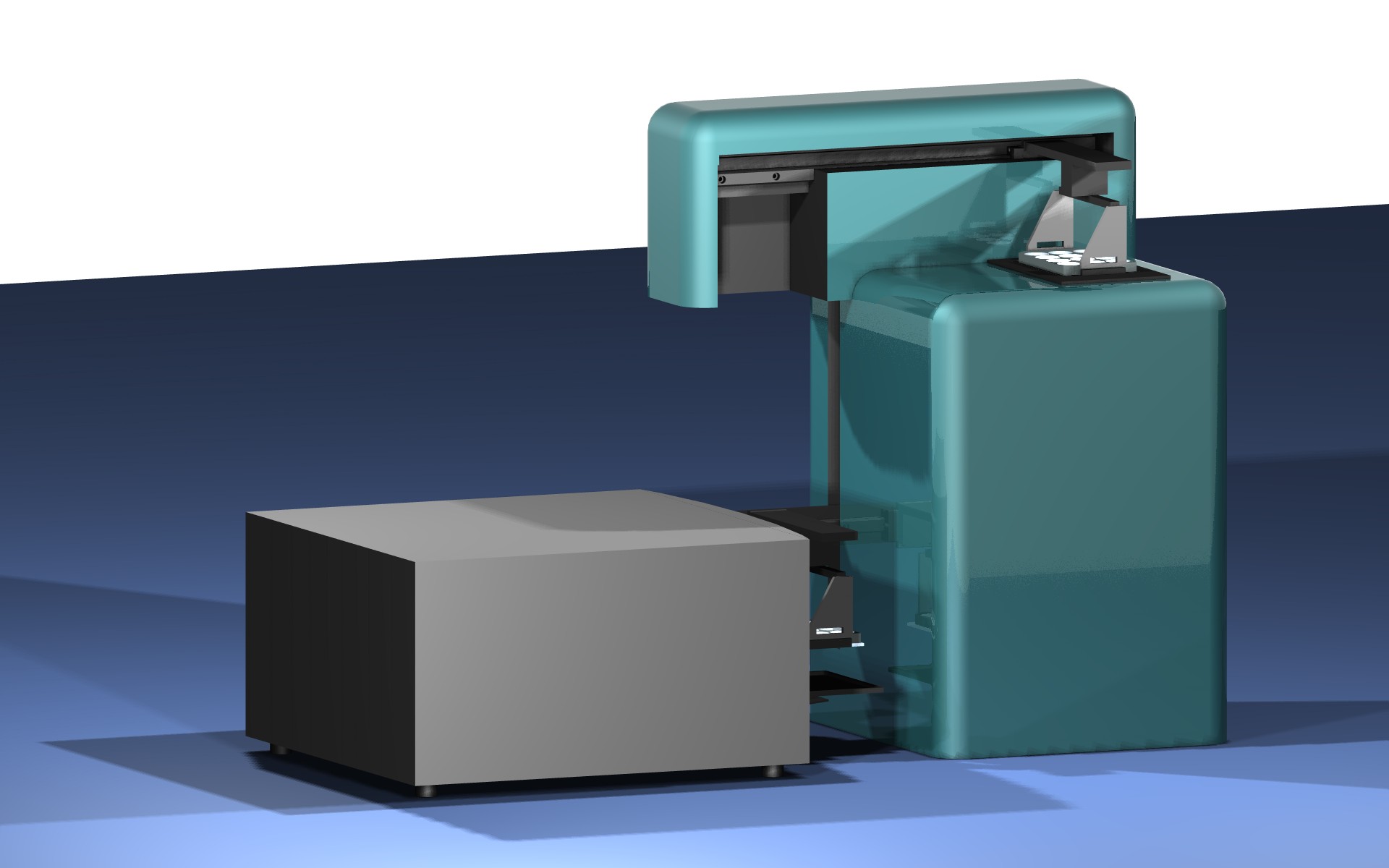 The costs are less than 1/3 of the complex and big robotic solution mentioned above. Up to 10 MTPs can be stored and by means of the integrated gripping and transport mechanism, MTP-barcodes are read and the plates are loaded in a scheduled manner into the reader which then starts the analysis.
Just put the 10 MTPs in, set the parameters on the touch display and come back after the last plate is processed to analyze the results!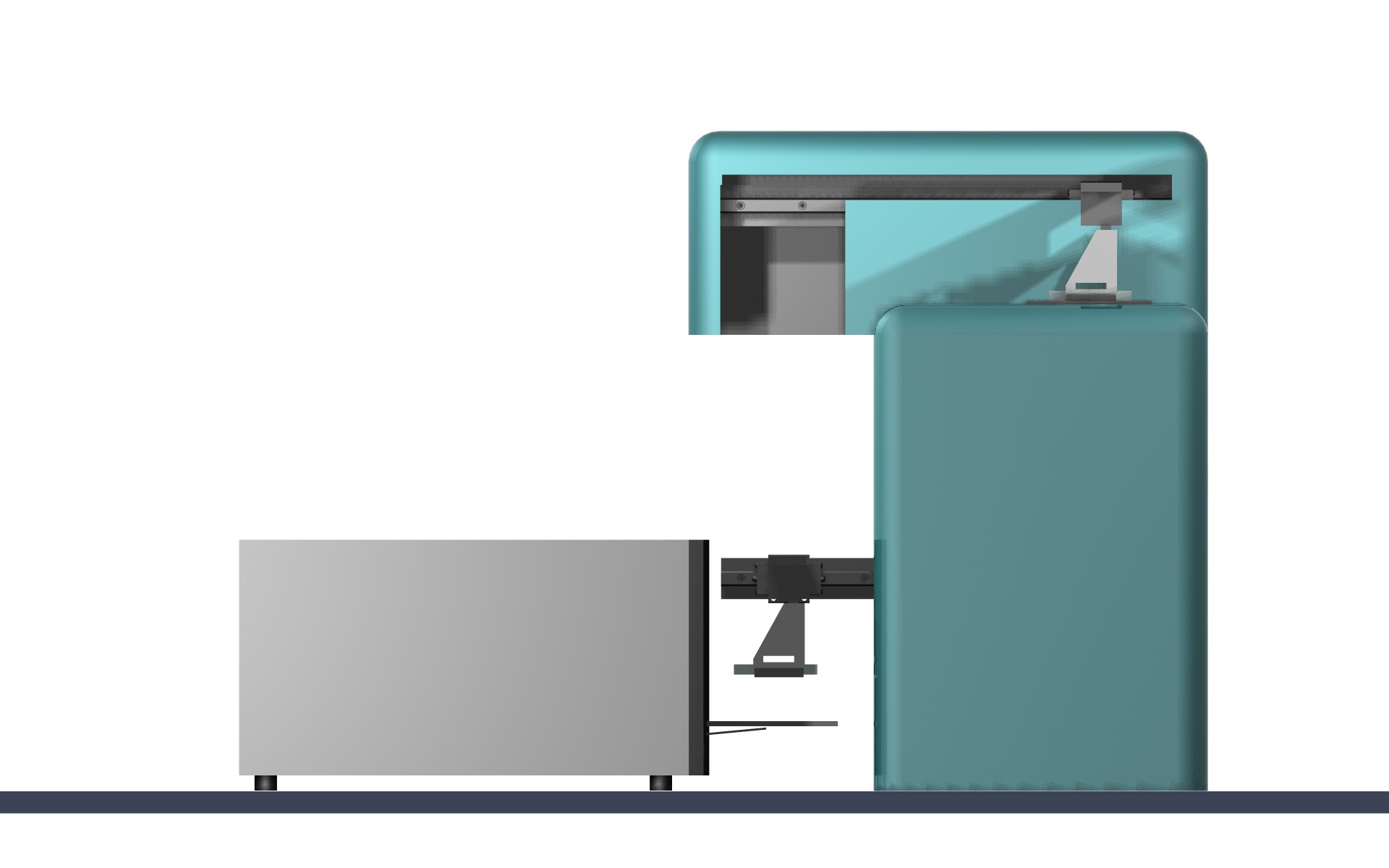 CellOfeed is available with 1 incubator for any end-point analysis or with 2 incubators for multipoint assays.

Have we caught your interest?
Don't hesitate to give us a call for further information about how we can help you with your automation request! The production of automated devices for the cultivation of most different cell lines and cell types is our main focus.
Back to Top
CellOcount
It's speed, precision and reliability that counts.
It's CellOcount that counts!
Introduction:
At present, the number of living animal cells is determined routinely by a manual procedure (counting chamber, haemocytometer).
It's inexpensive but time-consuming. And the results highly depend on the 'human factor', i.e. expertise, training, practice.
For automated cell culture systems this procedure is obviously not applicable at all. Therefore certain microscopic systems exist or FACSes (flow cytometers) are 'abused'.
All of these systems have 2 disadvantages: high investment / operating costs and rather slow process times (typically several minutes for a single cell count). And usually they require well-trained staff for their operation.

Solution:
CellOcount processes up to 8 cell samples in parallel which takes less than 1 minute and is completely automated.
Just place the 48 well MTP into the device and press start – after 1 minute you have the results for the first 8 samples, then the second 8, etc. Within less than 6 minutes all 48 samples are processed. That is the average time it takes to count 1 sample in a flow cytometer!
Total cell count, percentage of viability and diameter of cells are achieved and stored in a format that is convenient for you.
No reagents have to be added – instead a really inexpensive disposable is used: no incubation, no complex pipetting, etc.

For further information, specifically questions about the integration into your target robotic system, don't hesitate to give us a call!
Back to Top